We LOVE to go camping. Last year we went several times. I went camping all the time when I was a kid. It's a whole different story to take your kids by yourself, but it's defiantly worth it. The state parks in Texas have a wonderful program we did last year called
Texas Family Outdoors
.
For $65 -$85 each family or group of up to six people gets a campsite with nearby restrooms and the use of equipment including: tent, cots for two adults, foam sleeping pads for children, lantern, camp stove, cooking pots/pans and utensils, and a coffee press. You will bring: bedding, personal items and food. They even provide camping recipes. They help you with setting up your tent and also getting a fire started. Remember to bring firewood or you can purchase some in the park store. There is no gathering wood from the state parks.
Each workshop offers different activities. Your family could geocache (high-tech treasure hunt), kayak, fish, swim, rock climb, cook in a Dutch oven, go to a nature program, mountain bike, stargaze and more.
This is a great post by
Meghan Tucker
.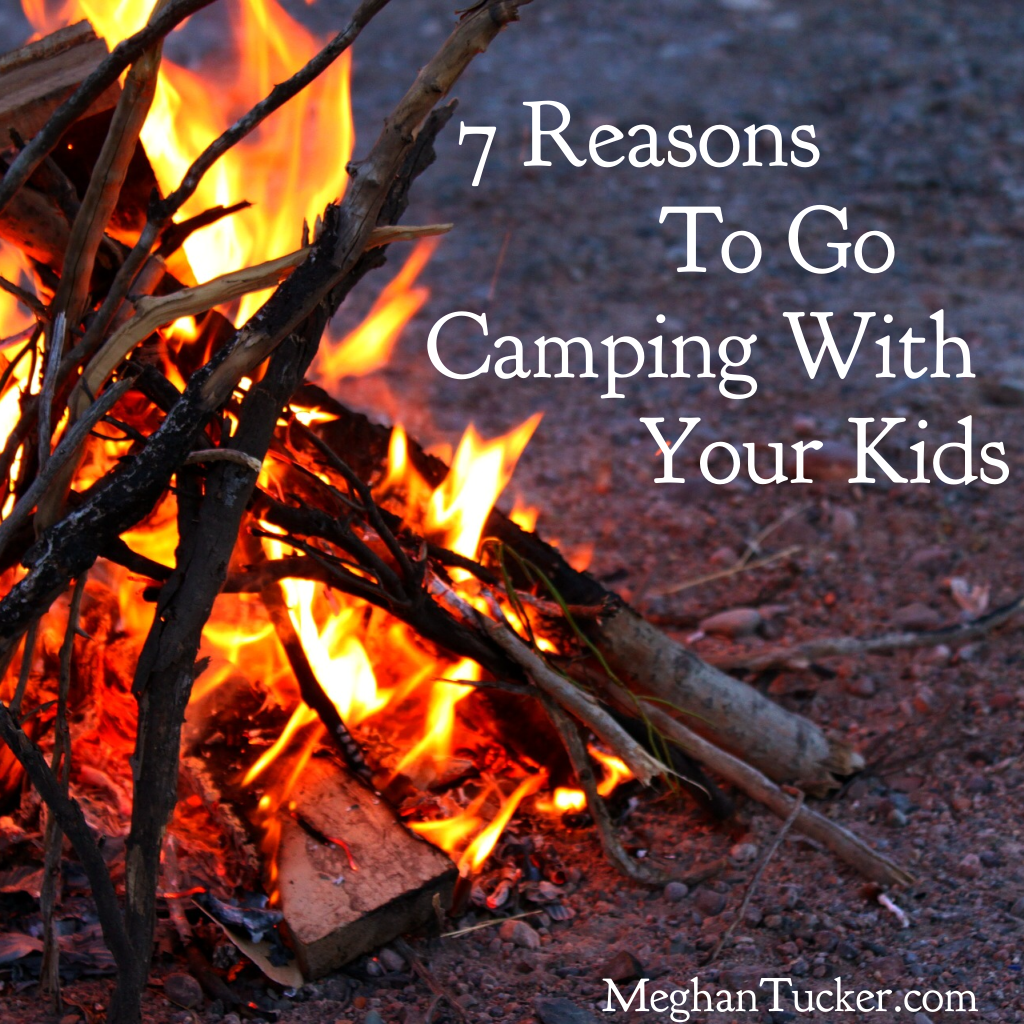 Camping season is officially here and we're so excited. We're heading out on our first camping trip in just a few weeks and we're so ready! I know some people just aren't camping people. Thats fine, but you're missing out. Really, you are. It's such great thing for kids especially. Here's why I think you should take your kids camping this year:
1. It's the best way to connect as a family.
Really, nothing says connecting more than staying in a tent or camper together. No one runs off to their playroom or rooms, no doors are shut, you're all together. The distractions of the outside world fade away.
2. It's affordable.
At least most places are. Now, there are campgrounds that are $65-$90 a night, but most of the state parks and other campgrounds are around $20-$35 a night. That's really affordable when you look at the prices of hotels if you were thinking of staying there.
3. Making memories.
Everyone who has camped at least one has a memory. Most are good. I grew up camping and have such great memories as a family of different camping trips we took. I want my boys to have the same.
4. Being able to be outside.
There's not excuse NOT to be outside when you're camping. You're stuck in the great outdoors for the duration of your trip. It's amazing what being outside will do to a family, or even an individual.
5. Count it as a school day….REALLY!
If you homeschool like we do, your camping days can be counted as school days. Take lessons, activities to talk and look at birds, trees, insects, plants, etc. I don't think there is a better classroom than outside. Do you agree?
6. Perfect place for kids to learn important skills.
Some of the best skills a child can learn are found outside. Think about it:
how to build a fire
how to tie knots
how to set up a tent
how to cook over a campfire
7. Anyone can do it.
Really, even if you've never been before, you can do it and it will be fun!
This Summer and Fall, I encourage you to take your family camping. Even if it's just a night or two. If you aren't sure if it's going to be something you enjoy, ask friends and family if you can borrow their camping supplies. Then, come back here and let me know about your trip.
For those of you who already camp, what are some of your favorite places to camp? We're always looking for new places to explore. You can read more about our camping adventures
HERE